This is great idea to bring everything in one tote so you are prepared throughout the meeting. Be sure to highlight test scores (yellow), if you have question about something (pink). Keep notes throughout the meeting and be sure all key points are in the meeting summary (ie items you might have concern with or disagreement). I suggest post it flags (flag anything you may want to return to) and notes (to jot down questions). Bring your calendar so if the meeting needs to reconvene or mark when progress notes will be sent home. Have contact log off all teachers/ administrators on the team. Lastly I al ways try to bring a sweet treat to the meeting (usually store made :).
Hope this is helpful Bec
Taken from wrightslaw.com:
IEP Kit includes:
The Wright Tote

Pen/Highlighter combo

3 Ring Binder

Sticky Notes

Daily Planner and Journal

#10 Envelopes

Contact Log, and

Recipe Cards for: 1 More Hour of Services Chocolate Chip Cookies and Team Building Truffles.
Wrightslaw: Special Education Law, 2nd Edition and

Wrightslaw: From Emotions to Advocacy, 2nd Edition book
Special Prepublication Offer!
answers more than 200 frequently asked questions & introduces key legal issues

outlines your rights & responsibilities and explains the law in plain language you can understand

provides the reference source of information, the law, regulation, OSEP publication, or commentary
Prepub special offer good from October 28 through November 11, 2009.
Prepublication orders will be shipped during the first week of December, 2009.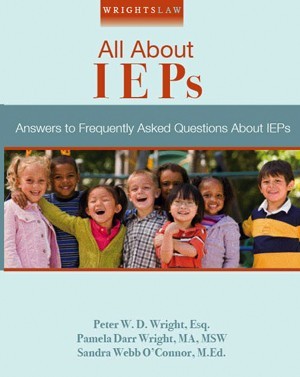 Prepub price - $12.95 Order now